It's that time of year! A little preventative medicine can be the "Apple A Day" you need. Walgreens is working hand in hand with DSU to get the flushot to students, as is evidenced by the activity in the Martiv Luther King Center.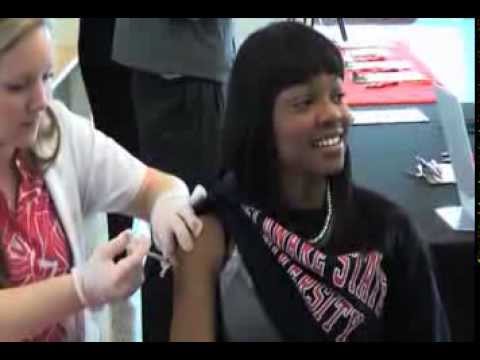 By La'Erica Conner-Sims
Students were in for a surprise when director and producer Lee Daniels was announced to speak at DSU. On Thursday, October 17, students, faculty and others interested in the event, gathered in the Education and Humanities Theater for a memorable experience. Daniels started the event by speaking about his childhood and the obstacles he had to overcome in his life.
Growing up in West Philadelphia, Daniels was not granted the same opportunities students today have available to them. He made it clear to the students in attendance that they should "take advantage of opportunity" when it comes to their education. One sad detail that was shared about Daniels' father was his death when he was only 12 years old.
He told the audience that his father was a Philadelphia police officer who was killed in the line of duty. Daniels then took the audience on an auditory trip and went through each of the careers he had after high school. One of his first careers was working for a nursing agency after he relocated to California.
Daniels started his own health care business after realizing that he could do the job on his own. After he left the nursing agency, he did just that. Daniels started off with a handful of clients and grew to having over 500 nurses and over 1,000 patients at his company by the time he was 21-22 years old.
He credited his use of drugs to the large amount of money he had earned during this time. "When you don't have an education or you don't know to pay taxes, what do you do?" Daniels said. "You buy houses, you buy Porsches, you roll a lot of drugs and that's what I did."
Daniels also shared that he is an openly gay man and had to deal with many of his friends dying from AIDS after the disease became a problem in the United States. A casting company was the next career for Daniels after he decided to sell his nursing company. During his time with the casting company, he was able to work on the movie Purple Rain that starred singer-songwriter Prince.
Prince was noted as being very supportive of Daniels. "Prince liked me and believed in me and saw some talent in me," Daniels said of the musician. Daniels then migrated to Warner Brothers and was hired by them to be in charge of seeking minority talent.
On a later trip to Broadway, Daniels was inspired after seeing the musical Dreamgirls. He set out to begin managing actors and actresses who fell into the minority group. Morgan Freeman, Loretta Devine and Cuba Gooding, Jr. were among the people he worked with.
His use of drugs was still ongoing at this point. Monster's Ball was Daniels first film which he produced in 2001 which starred Halle Berry, Billy Bob Thornton and the late Heath Ledger. Berry ended up becoming the first African-American actress to win Best Actress at the Academy Awards.
On the night of the awards after Berry won, Daniels said he did not feel like he deserved the recognition. He spoke about how he had a crack pipe in his hands when Berry had called his hotel room to join her at a Vanity Fair after party.
Daniels also mentioned his two children who happen to be the children of his brother.
He has been raising them since they were infants due to the imprisonment of his brother. He named his two children as being the reason for why he stopped doing drugs. The event progressed with Daniels talking about his recent film The Butler which was released in August of 2013.
When speaking about the film, he said it was about a love story between the father and the son. He ended by sharing a blooper reel from The Butler which kept the audience laughing. Questions were accepted afterwards by those in attendance.
There were several questions from students and other attendants that dealt with wanting advice which Daniels answered honestly. There were also two women who came up to speak about their experiences during the civil rights movement. The audience welcomed both women with applause after hearing their stories.
The event ended with attendants asking Daniels for autographs and pictures.
By Robert Binford
The Hornets cross country team is hosting their second Hornet Invitational of the 2013 season.
The track meet will take place at the Hornets home track which is located in Smyrna.
The team has practiced non-stop nearly seven days a week to prepare for this upcoming meet.
The team has made changes in the coaching personnel with the new edition of head coach Krystal
Mckenzie for the girls' team.
At their last meet on September 21, both the girls and boys placed 5th in the Cappy Anderson Invitational.
Talking with some players they feel as though the team has improved morally and in their work ethics.
This cross country team seeks to put Delaware State on top of the MEAC to attain prestige in the track program.
By Logan French
Everyone has been taught that smoking tobacco is a terrible thing and that it does nothing but harsh every system in your body.The smoke is what causes so many problems as it contains a filtered or unfiltered direct line of access into the body.
When tobacco burns it releases not only the smoke that is created by igniting the plant, but the processing chemicals used to cure or flavor the tobacco is taken in and is often harmful or fatal. Many people still smoke today and the rate of diseases and number of complications because of smoking are constantly on the rise.
Most cannot put down their smoke as it has entrapped them in a nicotine addiction. The common question now is "I cannot stop smoking. Is there any way I can still smoke without taking in all the harmful effects?"
One company, BluCigs, advertises that they can help you and still allow you get what you need while being healthier during your habit. First things first, we must investigate how to use the BluCig.
We cannot just take a lighter and light the end of the new product. It's a little more complicated than that.
In the tube of the product, there are a few compartments that entrap certain products that must be heated to obtain the effect. A serum or a"juice" as the company calls it is loaded into the Ecig as a flavor cartridge.
A small heater heats up the juice and converts it into a vapor very similar to water vapor and the person takes a long deep inhale or drag off of the product. The supposed advantage is that when a person uses an Ecig, they will inhale the toxic smoke and after effects of burning the plant leave and the paper wrapper.
Granted, this makes perfect sense as there will be no smoke. The product creates a vapor, similar to a humidifier or vaporizer used in homes across the world.
The true quandary is whether or not the new product is as healthy as it claims. The Food and Drug Administration does not endorse these products as there have not been enough or quality physical long term effect studies done.
Also, the FDA is worried about how providers make, create, store, and regulate the dosage of nicotine in each juice vial. People have actually overdosed on nicotine with these products for two basic reasons.
The first being that since they are not an officially watched product as they contain no tobacco and can be purchased by any person at any age or intelligence level. Secondly, not all products or makers should be trusted.
It has been found in recent studies that the amount of nicotine on the box may not match what is actually taken in. It may be dramatically lower or higher.
Another fact to contend with is that the device must be purchased to initially begin the process and the juice vials must be bought in order to achieve the desired effect. Most Ecigs are in the neighborhood of $50 to $100 or more for getting a full starting pack or all the pieces necessary.
An average pack of cigarettes in Delaware today is about six or seven dollars with the vice tax. Another thing to take account is that there will be required actions and maintenance that your Ecig will require.
The battery will have to be charged, juices will have to be changed or refilled, the device needs to be cleaned, and even more will be required to make the performance the best it can be. One of the heaviest hitting blows to the campaign of that Ecigs are the best way to go, is that the FDA have not approved the use of the device.
This entails that there are no regulatory systems that monitor your smoke as we talked about before, but there may be more in your new toy's output than just vapor. This also brings about a new name to an older idea.
Secondhand vapor is a constituent to secondhand smoke in the world today. There have not been enough conclusive results of what exactly is in the vapor that is released upon exhalation of the product.
This idea has since prompted restaurant and bar owners, even the patrons have written to their local governments and national administrations to ban them just as well as they are as harmful to not only the user, but to those around. Take this information into heart and make your own choices.
We at The Hornet discourage smoking, but at least our readers can now make an educated decision on their personal health.
By: Scheniqua Earle
Imagine learning how to write, record, and produce your own music without leaving campus.The Music Department is allowing students to express their creativity through a unique program.
Music professor Dr. Tolley advises Class Records, a record label managed by the students.Gaining experience in a real recording studio is a plus for the students while learning how to market and promote their work.
The Class Records staff are expected to present a mixtape and a talent show during the school year.Last year the label struggled because some students did not put in the same effort as others.
However, Class Records is back in full effect."This semester looks like a good one…there are some hungry kids. They are willing to work.", Dr. Tolley said excitedly
"…Everything is done by the students. They elect their board members…I just over see it…" Dr. Tolley added.Also, non-music majors can join the student run label as long as they are enrolled in Delaware State University.
Class Records is a place for music lovers to demonstrate their skills and turn their passion into a  future career. Dr. Tolley said it best, "Organize your art and maintain you passion. Try to be inventive. Try to be like Steve Jobs. Think outside the box."